The pandemic has shed light on businesses' technology infrastructure shortcomings. No growth companies appear to be behind the technology curve, and their outdated systems are no longer cutting it. On the other hand, businesses that have kept pace with new technology are racing ahead, adding new systems to their technology stack and harnessing the added efficiency and power to generate higher growth and revenue.
While it is important to receive ROI from technology investments, now more than ever it is critical to understand the competitive edge that staying current with technology provides a company. The fundamental reason many companies are moving to new platforms and cloud-based solutions is the increased functionality these solutions provide.
What is Digital Transformation?
Digital transformation is how businesses use digital technologies to create new or modify existing business processes, practices, models, culture and customer experiences to meet changing business and market dynamics. Simply stated, it's about identifying how you must adapt your business to drive customer loyalty and maintain a competitive edge in the digital age. To learn more about digital transformation, watch our webinar with Kenneth Sims.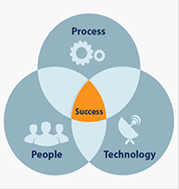 According to LBMC's Business Outlook Survey conducted in January 2021, companies are most likely to manage their technology by improving the performance of existing systems. This still rings true for what we are seeing as companies enter 2022.

High growth companies were twice as likely to add new systems than no growth companies, while no growth businesses were more focused on replacing existing systems and outsourcing technology support. The report defined high growth firms as those that achieved at least a 20% annual revenue growth over the period of the study. In aggregate, however, the firms that met our high-growth criteria far outperformed this 20% threshold. Average growth is 1-19% revenue over the previous year.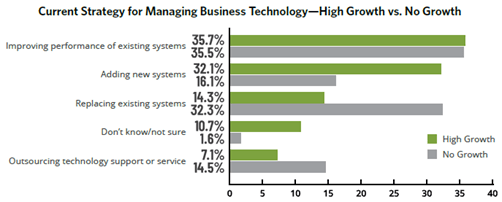 Over the past year, businesses have been investing most in cloud-based and business intelligence technologies and we see this continuing through 2022. Forty percent of companies planned to invest in technology & software throughout this year and we don't see this changing for while longer. Of those who plan to prioritize technology in 2022, over half expect to invest in cloud-based solutions.

The speed at which technology is changing is accelerating exponentially. Features such as machine learning, artificial intelligence, business analytics, and mobile enablement are no longer only available in enterprise level solutions targeted at Fortune 500 companies. There are many software applications that have this functionality at price points appropriate for small and midsized businesses. Having timely information, visual representation of trends and potential risks, and the increased operational efficiencies that AI and machine learning provide results in lower costs and/or increased profits.
Why is Digital Transformation Important to me and my Business?
The most critical piece of a digital transformation is your people. Businesses should not implement technology just for the sake of implementing technology. It takes more than technology to bring solutions to our businesses. The human dimension really matters for digital transformation and is valued by your people when it frees them from a redundant and repetitive task and allows them to be more creative.
Technology in and of itself does not innovate; people do. Similarly, technology does not interrupt or disrupt; people do. It is important to remember that people are the most important asset, and technology enables and amplifies the potential that our people have. Employees can focus on higher value tasks and help your business be successful. Obviously, with all the things we have at our disposal for our employees, their contribution to the bottom line is influenced by what they know and with whom they are connected.
While the most common factor holding a business back from digital transformation is fear of change, change helps us transform how we do business. Disruptive change is all around us, and companies are having to adapt to the new normal and bring in skills, talents, processes, and technology they did not have prior to the pandemic. Delayed digital evolution has turned into digital transformation at a fast pace and has required businesses to pivot to enhanced user experiences focused on clients' needs. Companies that had much of this in place were able to continue their businesses without much interruption in 2020 and even created additional opportunities, as they were seen as experts and helped their teams pivot to virtual business development and client experiences. To stay competitive and disrupt our own industry, we use technology to better our probability and ability to compete in the market.
How do I Begin my Digital Transformation Journey?
The most critical step for a company when beginning its digital transformation is to impose discipline in the process. It is imperative to spend time evaluating where operational efficiencies exist and if business processes can be changed to eliminate them. Are there manually intensive, low value tasks that employees are spending time on that can be automated? Giving thought to the growth and scalability of the business will aid in ensuring the technologies that are invested in can continue to perform as the company grows. Documenting well-defined functional requirements and the outcomes you expect to receive overtime can provide the roadmap you need for your digital transformation. This information becomes the foundation by which you architect your technology infrastructure both from a hardware and software perspective and provides the metrics that allow you to measure your results. Getting the right employees involved in this process and communicating the objectives and expectations as you begin this journey will ensure a much higher degree of buy-in to change which is ultimately the key to success.