Earlier this year, we decided to collect data and create a report about the state of Business Central and Manufacturing. We aimed to fill a current gap in terms of market data availability. The 69-pages "State of Business Central and Manufacturing Report" represents 318 respondents from 58 countries and all five continents.
Personally, I've been working in Dynamics 365 Business Central / Dynamics NAV manufacturing for around 2.5 years (side note: this blog post is written by Lawin Ileto, business development manager at NETRONIC Software).
This means that I am quite new to the industry compared to numerous partners that we work with, who have 20+ years under their belt. Being new, I was naturally curious about the industry, but never really had any source of information that could answer general industry questions.
In this blog, I wanted to share with you what I personally found meaningful from the report as an industry newbie.
Business Central manufacturing customers at the crossroads
The industry is currently at a crossroads. One of the big decision points of today is whether to move from Dynamics NAV to Dynamics 365 Business Central.
Based on our report, we saw that a lot of our respondents were customers still on NAV (66%), with around 70% of them planning to move to Business Central within the next 2 years.
Given the fact that Business Central is available for both on-prem and cloud environments, this leads to the 2nd decision point, which environment is preferred.
Microsoft has been quite aggressive with its promotions to move customers to the cloud. Nevertheless, Dynamics NAV customers who currently are using their ERP on-premises seem to be rather reluctant to change. Our data showed 68% of respondents still being on-premises, with 61% of them have no interest at all in migrating to the cloud in the future.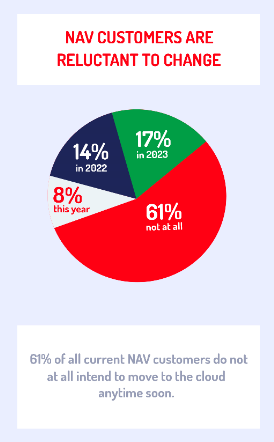 The why and how manufacturing customers use ERP systems
Starting an ERP journey is not the easiest process. It takes a lot of time, planning, and resources to eventually get it right.
From my experience, there's typically no definite goal, but it rather is an ongoing process. Thus, we thought it would be interesting to find out why & how customers get into the ERP world.
The most common answers we found as to why manufacturing customers use an ERP system, were the following:
Achieve more cohesion in business processes and finance
Gain overall transparency of the business
Enhance the efficiency of admin and core production process
From there on, we zoomed further in and wanted to understand how customers started their journey with Microsoft Dynamics NAV or Business Central.
Systems manufacturing companies use before introducing Dynamics 365 Business Central (or NAV)
What were they using previously, and why did they need to switch?
We found out that NAV/BC oftentimes are not entry-level ERP systems.
The majority (59%) of our respondents said that they previously came from an ERP system and moved to NAV/BC. Either they were using an older legacy ERP that is no longer supported, lightweight software such as QuickBooks, or an ERP vendor such as SAP or Dynamics AX that was too heavyweight.
Basically, their ERP was not a good match for their requirements, as they needed something in the middle tier.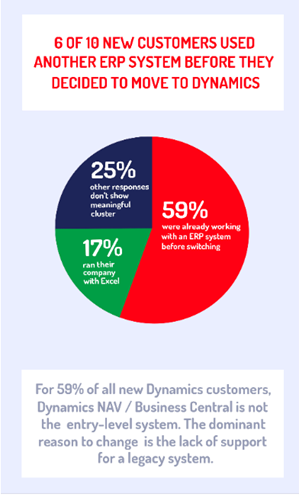 As we start to dig further and understand the ERP journey of our respondents, we found a consensus that although NAV/BC can cover a lot of general functionality required by the customer, there are still customers that require more.
Our data showed us around 73% of our respondents find standard Business Central incapable of solving all their requirements. Thus, they require customizations made by the partner and/or use third-party applications.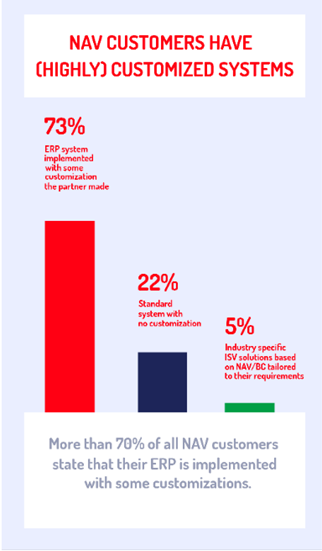 Why and how manufacturing customers enhance Business Central with 3rd party apps
To give you a better idea of these customizations/3rd party applications, we also asked customers for which kind of tasks they would require specific apps for. This tells us what types of functionalities are lacking in standard Business Central. The top answer for this question was the following: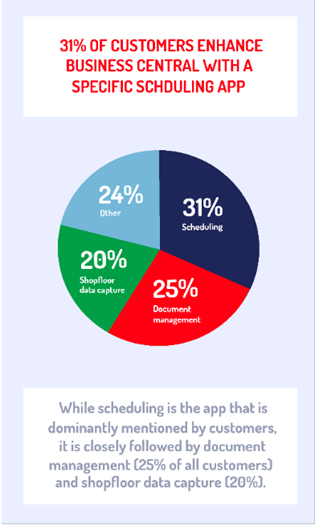 Finally, we looked even closer into Microsoft NAV and Business Central manufacturing and wanted to see how this specific module was perceived by our respondents.
In general, the customers we interviewed gave NAV/BC's standard manufacturing gave an average rating of 6.6/10 and a median rating of 7/10 (10 being the highest). The top issues that they experienced working solely with standard manufacturing included the following:
Too many tables, hard to find data - 44%
Too time-consuming - 28%
Even if I slowly get accustomed to the Business Central world, I still sometimes feel lost in understanding the industry as a whole.
These tidbits of information I shared, certainly could've helped me earlier in my career. This report definitely helped me understand some basic questions I had about the industry, such as
where the industry is right now,
what pushes customers to move towards an ERP system
and what difficulties do customers experience with Business Central manufacturing?
If you want to understand the Microsoft Dynamics 365 Business Central & manufacturing landscape and enjoyed the very informative data presented above, I suggest you download the full report from here.