As a consultant meeting with prospective manufacturing business clients, the first thing I want to examine is the data structures in their current ERP system. Often, the data structures and what's stored there can tell me a lot about the workings of a business.
Analyze the warehouse table
The warehouse table can reveal a ton about a company's supply chain. One of the trickiest parts of managing a multichannel brand is allocating the right products to the right channels. Sometimes organizations create virtual warehouses to "set aside" inventory for different customers or channels. The problem with warehouse tables arises when they become so numerous that they can no longer serve their purpose. How does that happen?
Because an ERP system can slice, dice, and segment your data almost any way you want, there is a tendency to overuse virtual warehouses. If your company serves multiple regions with multiple channels and customer tiers, you may have created dozens of virtual warehouses. Perhaps a certain region is a best buyer and needs to be serviced first. Or perhaps one of your customers has been with you from the start, and when the time comes to serve them, you want to guarantee that the inventory is there to fulfill their demand. It sounds like good business practice, right?
But what happens next? As you create more virtual warehouses for certain regions, customers, products, or circumstances, you may start to have virtual inventory overages and shortages. Nobody can forecast the future exactly. The demand distribution among regions, channels, and customers will vary, even if the total demand stays the same across time. If you have segmented the inventory virtually to match your demand slices, you may have caused yourself a bunch of virtual inventory problems. The more granular the segmentation, the worse the problem becomes. In a warehouse with a single physical location for a product, there may be three or four virtual locations in the system, causing all kinds of fulfillment issues.
Having too many virtual warehouses leads to other problems
When you realize that these virtual inventory issues are getting out of hand, you may come up with yet another brilliant solution - virtual transfers. What a great tool. Now you can start moving inventory virtually across these virtual warehouses to solve your virtual inventory problems. That seems like a solution, but it can quickly become confusing, and time-consuming. There are so many issues to resolve that you simply give up and ask your IT team to write algorithms to automate the virtual transfers. And on and on.
Stop the madness
This is where a good soft allocation system comes in handy. Instead of segmenting inventory, soft allocation pulls from a single inventory point, and allocates product based on rules-driven and prioritized demand and supply. It ends the madness of too many virtual warehouses and gives you a clear picture of exactly where you stand.
However, soft allocation isn't one of the core features in Dynamics 365 or Dynamics AX – so you'll need a solution to implement this effectively. Sunrise 365 for Supply Chain was designed for omnichannel companies to optimize their supply chains, and provides the tools, analytics, and dashboards to do so.
If you would like to know more about soft allocation and how it can relieve the pain of too many virtual warehouses, contact us at Sunrise Technologies.
You can read more on my blog: Virtual Warehouse Best Practices
By Cem Item for Sunrise Technologies, sunrise.co
About the Author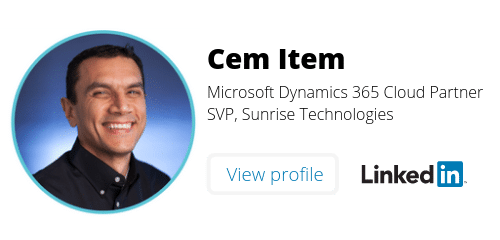 As the SVP of Global Business Development for Sunrise Technologies, Cem Item is a trusted advisor to many C-level executives in apparel, footwear, fashion, furniture, and consumer goods. His customers rely on his deep supply chain understanding in manufacturing, distribution and retail operations as well as hands-on technical and functional knowledge on Enterprise Resource Planning (ERP), Customer Relationship Management (CRM), Retail Management and Business Intelligence (BI) systems.