Your product is the lynchpin of your manufacturing business and supply chain processes. Without a product, you'd have no business. Managing your product includes all aspects of your business processes: procurement, manufacturing, logistics, sales, distribution, planning, etc.
To keep your manufacturing business efficient and profitable, your ERP (Enterprise Resource Planning) system must accommodate diverse business functions and handle all of your data intelligently. It's a complex demand and one that many legacy ERP systems cannot keep up with. In fact, product masters, used to ensure that your product looks great, meets the needs of the market and has the potential to compete favorably with other products in the same niche, tend to be one of the most customized parts of an ERP system.
A full-service, top-notch ERP solution such as Microsoft Dynamics 365 is particularly necessary for companies with multiple and diverse products. For example, a lifestyle brand may offer products in several categories: apparel, footwear, accessories, handbags, and cosmetics. The products differ greatly, each product having its own set of attributes. On top of that, the products may be offered through multiple channels. With all of the variables accounted for, product masters can become bloated with custom fields triggering different logic for different business functions.
Choosing an ERP solution
With so many variables to be handled in one central ERP system, it is crucial to stop and think about how to handle product attribution before choosing an ERP solution. Selecting the right ERP will give you the chance to really get things set up in the best way for your organization. Here are a couple of tips:
1) Identify common attributes, those that pertain across products and marketing channels. Examples could be Brand or Gender, etc. These are broad categories and what you could call hard attributes. They are constants that allow you to sort and filter products. They should be identified in main forms and reports.
2) The larger, secondary sets of soft attributes may be more challenging to manage. These include specific attributes of products such as flammability, water resistance, finish, etc. These soft attributes should only be selected within the product category they represent. These attributes may be numerous. Many legacy ERP customizations will be built to show all the possible soft attributes for all the products all the time. This can be confusing for manufacturers, their marketers, sales team, customer service reps, and customers. A more efficient ERP solution will show you which attributes apply to specific products.
Watch my video to learn more...
Why choose Microsoft Dynamics 365
Product hierarchies play an important role in soft attributes. With Microsoft Dynamics 365, attributes can be attached to the relevant nodes in the product hierarchy. Moreover, attributes at a child node can be inherited from a parent node. When a product is then attached to a specific node, only the attributes related to that node are presented to business users for entry and maintenance.
Microsoft Dynamics 365 is an intelligent ERP system that can manage even complex product attributes.
If you are interested in learning more about how Microsoft Dynamics 365 can help make your supply chain more efficient and profitable, please contact us at Sunrise Technologies.
By Cem Item for Sunrise Technologies, sunrise.co
About the Author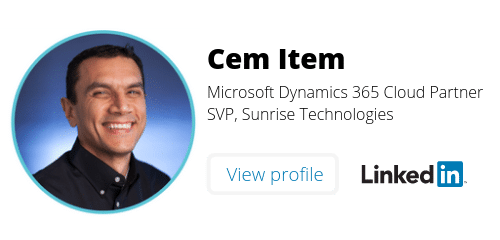 As the SVP of Global Business Development for Sunrise Technologies, Cem Item is a trusted advisor to many C-level executives in apparel, footwear, fashion, furniture, and consumer goods. His customers rely on his deep supply chain understanding in manufacturing, distribution and retail operations as well as hands-on technical and functional knowledge on Enterprise Resource Planning (ERP), Customer Relationship Management (CRM), Retail Management and Business Intelligence (BI) systems.