Unless you are a very unusual business owner, you're probably quite concerned about costs. After all, most organizations are in business to make money and retain their position in the marketplace. So, when it comes to purchasing large-scale business application systems, there may be some hesitation. In fact, when you look at the costs involved in implementing a new ERP (Enterprise Resource Planning) solution, you may just decide that you'll limp along with your old setup for a while longer.
But there is a cost, and risk, to not implementing a new or upgraded full-service ERP solution.
The evolution of your business
Your business depends on continual evolution to keep up with changing technology and a competitive marketplace. Adaptability is what keeps your organization moving ahead.
Consumer trends, government regulations, technology, and other factors beyond your control mean you must adapt continually to a new environment. If you are stagnant, others will pass you by. Those able to change with the market are the ones that will remain relevant. And these days, it's not just a question of being willing to change; it's a question of how fast you can do it.
To break through the fear of change, focus on the value an updated ERP solution such as Microsoft Dynamics 365 will add to your business.
Focus on the value of ERP
Let's assume you have an AS400-based legacy ERP system that works just fine. It has been customized over 20 years and still runs well. It could possibly last another 20 years. Yet, the platform is slowly dying; support may no longer be available. Your IT department is losing (perhaps through retirement) the people with the necessary maintenance skills and younger IT professionals have learned on more up-to-date equipment. In fact, the new generation of employees may be appalled by your outdated modes and functionality. Your legacy system probably doesn't have the functionality to support your expansion into new product lines, new channels, and new regions. Your entire team knows that you need a new cloud-based modern ERP platform. Yet, if you do not take the time to quantify the expected value upfront, then it's likely that you will do nothing. Consider the value of higher inventory turns, increased sales, reduced cost, improved margins, improved customer service, compliance, and other true business benefits that a new application platform can bring to your organization.
Focus on what you'll get, and you'll overcome the fear of moving forward. A true value assessment should help you realize that there is a cost associated with doing nothing.
If you are interested in learning more about how an ERP system upgrade to Microsoft Dynamics 365 can actually save your business money in the long run, contact us at Sunrise Technologies.
You can read more on my blog: https://sunrise.co/blog/cost-of-doing-nothing/
By Cem Item for Sunrise Technologies, sunrise.co
About the Author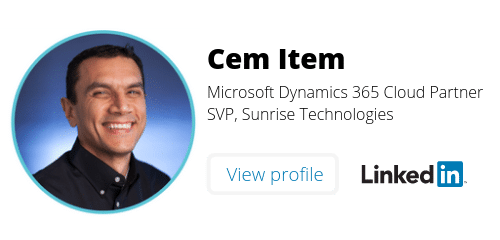 As the SVP of Global Business Development for Sunrise Technologies, Cem Item is a trusted advisor to many C-level executives in apparel, footwear, fashion, furniture, and consumer goods. His customers rely on his deep supply chain understanding in manufacturing, distribution and retail operations as well as hands-on technical and functional knowledge on Enterprise Resource Planning (ERP), Customer Relationship Management (CRM), Retail Management and Business Intelligence (BI) systems.