Companies that design, source, and manufacture products often need both PLM (Product Lifecycle Management) and ERP (Enterprise Resource Planning). These software solutions are critical to handling their business processes.
The difference between PLM and ERP
PLM is generally used to manage the design process. PLM systems are highly collaborative in nature, so they must be very flexible.
A full function ERP such as Microsoft Dynamics 365 is generally used for the processes that enable the products to be manufactured in the most efficient, cost-controlled manner. ERP solutions handle high volumes of transactional data, so they must be very structured.
Despite the differences, the two systems need to come together to pass product information back and forth.
It is possible to combine the two systems, but that is not always the best solution. Combining the two could result in losing unique features of one or the other. Often a third-party PLM integrated with Microsoft Dynamics 365 provides the best outcome.
Creative designers looking for a flexible and collaborative tool that allows for configurable milestone management will want to investigate a PLM solution. ERP is for those involved in the operational phase of production. It should provide a reliable, scalable, integrated environment that uses a standard structure to handle high volumes of transactions.
Keeping the two systems separate allows each to function at its best. Even though they both deal with product data, they do it from different vantage points. The real question is how to keep the applications separate while still allowing them to "talk" to each other, and how to leverage each system for the good of the whole project, and the organization.
Where to draw the line between PLM and ERP
Often, not all of a manufacturer's products are designed in-house, so not everything that goes through the ERP system also requires a PLM system. Evaluate your product offerings and figure out which were designed by your company and which were designed by a third party. The products that represent your brand should have started their journey in a PLM application while products that come to you with the design process already completed can go right through to the ERP application, skipping the PLM entirely.
Once you have determined which system will handle the data for your product, you should maintain that as the master system throughout the process. This will help you avoid duplication or conflict between the two systems.
For example, let's say you want to change the style or color of a product in your PLM and then push the new product data through to your ERP. Make the changes in PLM, and they will be carried through to the ERP without further need for data entry.
This does not necessarily mean that all product information, (attributes, hierarchies, assortments, etc.) should be maintained in one application. The best approach is to designate one system as the master and allow the other system to append it with additional data elements such as attributes.
Planning a PLM and ERP interface needs to take into account more than just the product data. You'll also want it to include reference data, such as units of measure, seasons, currencies, vendors, etc. Such reference data needs to be laid down as a foundation first for the product data to flow across the applications smoothly.
>> PLM vs ERP: Where to Draw the Line (video)
How Sunrise Technologies Can Help
Sunrise 365® is a robust set of supply chain enhancements for Microsoft Dynamics 365 Finance and Operations that includes integration frameworks for PLM systems, 3rd Party Logistics providers, and eCommerce integrations, all designed to save customers time and money during Microsoft Dynamics 365 Finance and Operations implementations. 
Our PLM integration framework for Microsoft Dynamics 365 will help you pass information back and forth like product and reference data, and it was built to be extended to handle your specific requirements like BOMs, routes, or purchase orders. 
By Cem Item for Sunrise Technologies,  sunrise.co
About the Author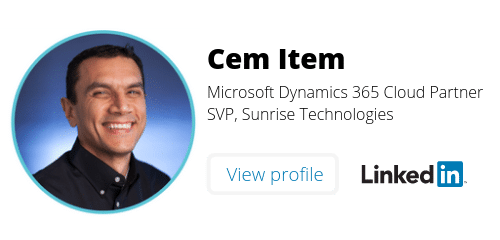 As the SVP of Global Business Development for Sunrise Technologies, Cem Item is a trusted advisor to many C-level executives in apparel, footwear, fashion, furniture, and consumer goods. His customers rely on his deep supply chain understanding in manufacturing, distribution and retail operations as well as hands-on technical and functional knowledge on Enterprise Resource Planning (ERP), Customer Relationship Management (CRM), Retail Management and Business Intelligence (BI) systems.